TCC SUD Program Overview Video
The Substance Use Disorder Counseling Certificate Program at TTCC offers students the educational component and preparation needed for employment in the addiction counseling field.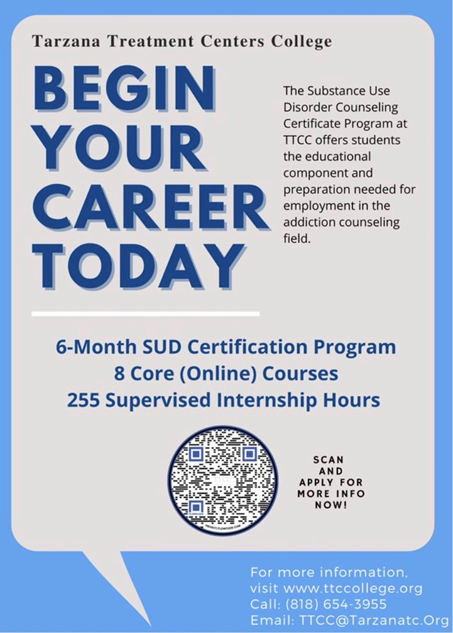 6- month accelerated SUD certification program
8 Core (Online) Courses
255 Supervised Internship Hours
For more information
Call: (818) 654-3955
Email: TTCC@tarzanatc.org
SUD
101
Introduction to Addiction Theory and Practice
This course provides an understanding of addiction the addictive process, barriers to care, and an overview of common treatment modalities. It includes a glimpse into how substance use affects specific populations including: various gender identities and sexual orientations, people of color, people with disabilities, older adults, youth and differing socioeconomic and sociocultural backgrounds. This course includes understanding the Minnesota Model, the Twelve-Step experience, and multicultural counseling strategies. 
SUD
102
Physiology and Pharmacology of Alcohol and Other Substances
This course provides an overview of the physiological, psychological and behavioral effects of drug and alcohol addiction. It will discuss the pharmacology of drug, alcohol, and other psychotropic mind-altering drugs. This course provides scientific approaches to understand the detoxification process, clinical assessments, and medications for addiction treatment. 
SUD
103
Law and Ethics
This course is designed to provide students with ethical and legal considerations related to addiction counseling in the state of California. It includes confidentiality requirements, HIPAA, and reporting requirements. The course largely covers laws relating to alcohol and drug use. 
SUD
104
Case Management and Patient Navigation
This course is designed to provide students with full competency in the twelve core functions of patient case management from screening to discharge. It includes an exploration of treatment planning and intake documentation for addictions professionals. It includes methods to create motivation for change in SUD treatment, relapse prevention, referral services, and a dive into co-occurring disorders. Students will engage in learning important pieces of writing in addiction treatment, including record-keeping, reports, and case notes. 
SUD
105
Individual, Group, and Family Counseling
This course is designed to provide students with fundamental individual and group counseling skills through the employment of evidence-based practices in addiction treatment, including motivational interviewing and cognitive behavioral therapy. This course offers guidelines and techniques to work with families and explores the educational psychology of brain-compatible learning. Students will get the opportunity to practice counseling sessions in various formats. 
SUD
106
Personal Growth and Professionalism
This course is designed to provide students with tools to assess their own professional and personal growth related to the fields of addiction and mental health. It includes a review of the needs for professional growth and the means to maintain a standard of excellence. This course investigates methods of self-care, professional development, professional organizations for addictions professionals, and career planning.  
SUD
107
Supervised Practicum
This course is designed to provide students with closely supervised work experience in a community clinical setting. It is used to assess clinical competency in assessments, treatment planning, group facilitation, record-keeping, and general agency procedures. Students work with an instructor to complete a project which synthesizes the learning from previous courses and the field work practicum internship at a clinical setting. 
SUD
108
Supervised Field Work Practicum [Internship]
This course is designed to provide students with clinical hours needed to work toward state certification. It provides internship hours with licensed professionals in a treatment setting, which may be at Tarzana Treatment Centers, Inc. or another community-based treatment center. The course will help students prepare for state certification an employment by reviewing Technical Assistance Publication (TAP) 21 addiction counseling competency guidelines. Students may complete SUD 108 congruently with other coursework.