Project Open Doors (POD)
About Project Open Doors
Project Open Doors is an online 6-month, GED preparation program that supports individuals preparing to take the General Education Development Test (GED) and earn their GED diploma.
The GED exam measures an individual's knowledge and skills needed for college and career readiness. The test is comprised of four subject tests that are broken into separate exams:
Reasoning through Language Arts
Mathematical Reasoning
Social Studies
Science
For more information about the GED exam visit: www.ged.com
POD students complete 4 GED preparation courses and attend weekly group workshops to prepare for the exam. POD coursework is self-paced and completed through our online learning platform Edmentum.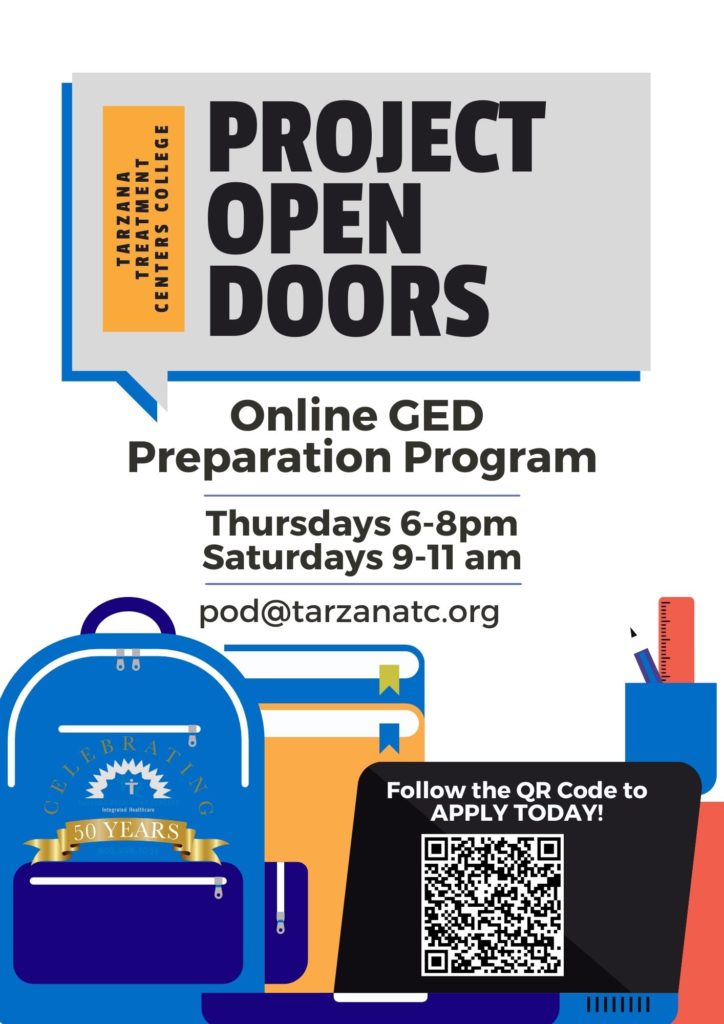 POD General Information:
POD is an online 6-month, self-paced GED preparation program.
Tuition is $25 per student.
Group workshops are hosted Saturdays from 9am-11am and Thursdays 6pm-8pm
Students complete 4 courses:

POD 101: Reasoning Through Language Arts
POD 102: Mathematical Reasoning
POD 103: Social Studies
POD 104: Science

POD 101 & POD 102 are taken together over the span of 9 weeks.
POD 103 & POD 104 are taken together over the span of 9 weeks.
POD Requirements:
1. Students must be 18 years of age or older.
2. Students must successfully complete an interview with POD faculty.
3. Must have a computer and internet access.
4. All must have availability to attend at least one GED workshop each month to maintain enrollment. Workshops are hosted on Saturdays 9am-11am and Thursdays from 6pm-8pm. Students will be allowed to miss 1 month of GED workshops within a 6-month period without penalty. Any subsequent absences will result in the student's disenrollment from the program. In the event a student is disenrolled, they must reapply to the program during the next cohort application cycle.
Enrollment Windows & Deadlines
The Enrollment Windows:
January 6th – 30th
March 20th – 31st
July 1st – 30th
September 20th – 30th
Students that submit applications outside the enrollment window must wait to be considered for the next cohort.
Project Open Doors Informational Video
Project Open Doors Informational Video
Check back soon for more information on eligibility, enrollment options and more!