Project Open Doors (POD)
About Project Open Doors
Project Open Doors is an online 6-month, General Education Development (GED) preparation program that supports individuals preparing to take the GED Test and earn their diploma.
The GED exam measures an individual's knowledge and skills needed for college and career readiness. The test is comprised of four subject tests that are broken into separate exams:
Reasoning through Language Arts
Mathematical Reasoning
Social Studies
Science
For more information about the GED exam visit: www.ged.com
POD students complete 4 GED preparation courses and attend weekly group workshops to prepare for the exam. POD coursework is completed through our online learning platform Edmentum.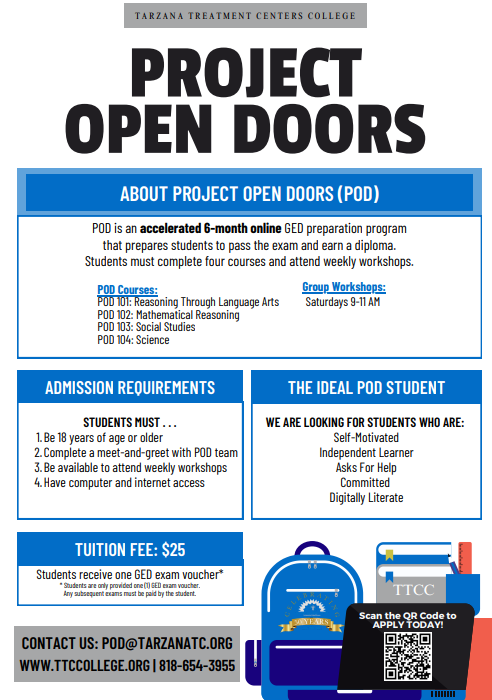 POD General Information:
POD is an online 6-month, GED preparation program.
Tuition is $25 per student.
Students receive one (1) GED exam voucher*
* Students are only provided one (1) GED exam voucher. Any subsequent exams must be paid for by the student. 
Group workshops are hosted on Saturdays from 9am-11am.
Students complete 4 eight-week courses:

POD 101: Reasoning Through Language Arts
POD 102: Mathematical Reasoning
POD 103: Social Studies
POD 104: Science
POD Requirements:
1. Students must be 18 years of age or older.
2. Students must successfully complete a meet-and-greet with the POD team.
3. Must have a computer and internet access.
4. All students must have the ability to attend Saturday GED workshops to maintain enrollment. Workshops are hosted on Saturdays from 9 am – 11 am. Students will be allowed to miss 2 workshops over the 8-week course without penalty. Any subsequent absences will result in the student's disenrollment form the program. In the event a student is disenrolled, they must reapply to the program for the next cohort. 
Check back soon for more information on eligibility, enrollment options and more!