CalMHSA Medi-Cal Peer Support Specialists Certification (PSS)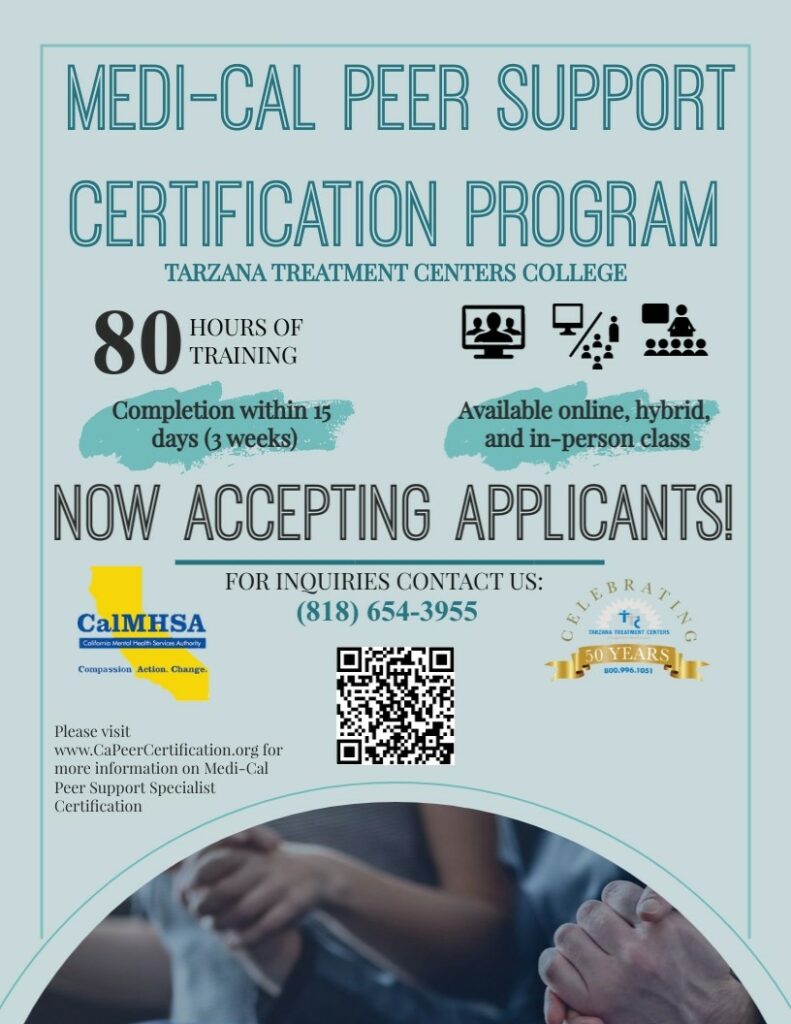 Student Experience
Tarzana Treatment Centers College's newly launched Medi-Cal Peer Support Specialists Certification Program provides an intensive 80 hour, 3-week (15 days) training for those who are interested in becoming Peer Mentors to individuals in recovery services for substance use disorders or other mental health challenges. This is the perfect opportunity for those with lived experience to give back and support their community. Navigating treatment services can be challenging, especially for those who have marginalized identities including race/ethnicity, gender, sexual orientation, ability, class, and documentation status. Having navigated treatment services with intersecting identities is an invaluable experience that can offer support and comfort to those who would like to engage with recovery services, but may feel hesitation due to institutional constraints, biases, and a history of inaccessibility.
Our program assists individuals in obtaining the required skills and knowledge to be certified as Peer Support Specialists. Throughout the program, students will be exposed to the core competencies identified by the DHCS (Department of Health Care Services) including hope, recovery, and wellness, advocacy, ethics and confidentiality, self-awareness, crisis planning, psychiatric rehabilitation skills, cultural competency, etc. Trainees will use this knowledge gained from our program and their own experiences in assisting those in need of support throughout their recovery journey.
Committing to our training program will enable you to feel empowered in your own recovery and provide care, support, and understanding to others engaged with treatment services. TTCC also offers a workforce development program that will assist in obtaining employment for you as a Peer Mentor once certification has been achieved.
Requirements
Those who are interested in certification must meet the following requirements:
 Must be 18 years of age and possess a high school diploma or GED.
Self-identify as someone with lived experience as a consumer of SUD/MH services or a loved one of a consumer.
Be willing to share one's lived experience with others.
Have a strong dedication to recovery.
Agree to and sign the California Department of Health Care Services Code of Ethics for Medi-Cal Peer Support Specialists in Southern California.
Successfully complete an 80-hour training covering the 17 core competencies for Peer Support Specialists.
Successfully pass the state approved exam administered by CalMHSA, the certifying entity.
Scheduling and Course Options
TTCC recognizes that individuals have different schedules, responsibilities, and learning styles. With this in mind, we are offering this training program in person at our TTCC headquarters in Woodland Hills, online, or a hybrid option. Those who chose the in person option should expect to attend daily classes Monday-Friday in the morning from 8:00 AM- 12:00 PM or in the evening from 5:00 PM- 9:00 PM. In person classes will feature guest speakers to foster enriching discussions on Peer Support Curriculum topics. Trainees are encouraged to chose a time that works best for their schedule. Those who chose the online option will be able to log onto Moodle to complete course work on a daily basis. Lastly, those who chose the hybrid option should expect a mixture of in person classes and online course work.
Upcoming Cohort Dates 
August 7th (Registration closes July 21st)

September 5th (Registration closes August 21st)
Exams
Students who complete the PSS program at TTCC will need to apply online and register at https://www.capeercertification.org/ to take the CalMHSA exam and receive official certification. Test preparation workshops are offered at TTCC to prepare students for this exam. Non scholarship recipients will be subject to an additional exam fee that is not covered by TTCC tuition.
Positive change in our communities starts with unique individuals like you! Call us today to begin the enrollment process.